Day Trip #8: Friends and Family
Looking for a great place to enjoy family time or hangout with your friends. Then checkout our great list of parks in O'Brien County.
Sheldon City Park
The Sheldon City Park is located between 4th and 6th Avenues just south of Highway 18 – click here to get location. The park features include a shelter house, restrooms, picnic tables, grills, softball fields, basketball court, open air picnic shelters, expression swing, and a covered gazebo. The City Park is also home to an extensive wooden playground complete with castle towers.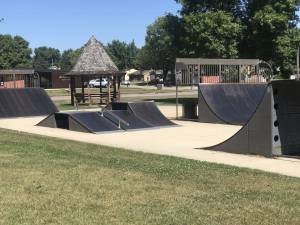 The newest attraction to the park is Skate Park, popular for skate boarding and rollerblading, is located on the Northeast corner of the park.
Sanborn Miller Park
Located at 1002 Sanborn St., Miller Park lies next to Sanborn Golf & Country Club. The 129-acre area offers a variety of recreational opportunities including a shelter house for picnicking. A favorite feature is the 2.3 mile-long asphalt nature trail for walking, jogging, biking or in-line skating.
Hartley Neeble Park
371 S. Central Ave, Hartley Neebel Park lies adjacent to the Hartley Swimming Pool. The ten-acre park offers a wide variety of safe and fun playground equipment, installed in 1993 as a result of the Hartley Municipal Light Fund and park donations.
Two shelter houses are available and ideal for family reunions, birthday parties, or any other type of gathering. The new air-conditioned facility area has a kitchen area which includes an oven, refrigerator-freezer, microwave, cabinets, countertop, and sink. Plenty of seating and tables are available. A gas grill is also available for use.
The new shelter house requires a $100 deposit. A refund of $25 will be allowed if the facility is found in a clean and orderly condition after its use. The other shelter house requires a $25 deposit with $10 refunded after its use when finding in a clean condition.
To rent or reserve the indoor shelter houses for your class or family reunion, contact City Hall at (712) 928-2240.
A camping area is also open to the public. This camping area includes six electrical hookups on a first come, first serve basis. Camping fees are paid at City Hall or the Hartley Pool.
Two sand volleyball courts and an outdoor picnic shelter area are also available, so the whole family can enjoy good times together including A walking/bike path at Neebel Park along with a new tennis and basketball court combination.
Primghar City Park
Located right along Hwy. 59 includes the shelter house, playground, ball field, sand volleyball, camping sites, and open spaces for various activities. Primghar City Park has camping hookups for approximatley 15 campers. Water, electricity (30 amp max), and firepits are provided. Showers, sand volleyball court, baseball diamond, and Primghar JC Figure 8 race also can all be enjoyed by staying at this park.

Paullina City Park
The City of Paullina has a City Park and Ballpark located on East Commerce Street. The park is shaded by many large trees and has picnic tables and benches available. There are two cement pads with canopies that are used for picnic tables, with an electric outlet available at both cement pads. There is an additional playground area for the younger aged children.

Paullina Mill Creek Park
Located just 1/2 mile east of Paullina on Iowa Highway 10 Mill Creek Park is one of the highlights of O'Brien County. The park offers a variety of activities for the whole family throughout the year! There is something for every outdoor lover at Mill Creek State Park including camping, swimming, hiking, a playground, a wheelchair compatible swing, a brand-new pirate ship, electric boating, picnicking, and even cabin rentals. Fishing is also a popular activity, giving anglers a chance to catch largemouth bass, sunfish, channel catfish, crappie and yellow perch.

Sutherland City Park
Located on Main St & W 4th St Sutherland City Park has a full basketball court, Skateboard ramps, 2 volleyball courts, 2 horseshoe areas, 2 open shelters, 1 enclosed shelter, several outdoor grills along with lots of playground equipment and plenty of space to run and play.
Sutherland Dog Creek Park
Dog Creek Park is located 2 miles SE of Sutherland, Iowa on Iowa Highway 10 and 1/2 mile south on Warbler Avenue (Cty Rd M12) and placed along the Glacial Trail Scenic Byway. Dog Creek Park has a wooden truck in the north campground and a wooden tractor with hay rack in the south campground. Dog Creek's breathtaking view of the lake and valley is something to see.

Calumet and Archer
Calumet, Iowa is located on Highway 59, Calumet has a lovely city park with playground and picnicking. Camping, fishing, hunting and canoeing can be found near the town.
Archer, Iowa is located 5 miles south of Highway 18 and County B40 in O'Brien County.Archer has a lovely city park with playground, picnicking and a softball diamond.

Pack a picnic lunch or stop at a local restaurant and get an order to go to enjoy your day trip in O'Brien County!